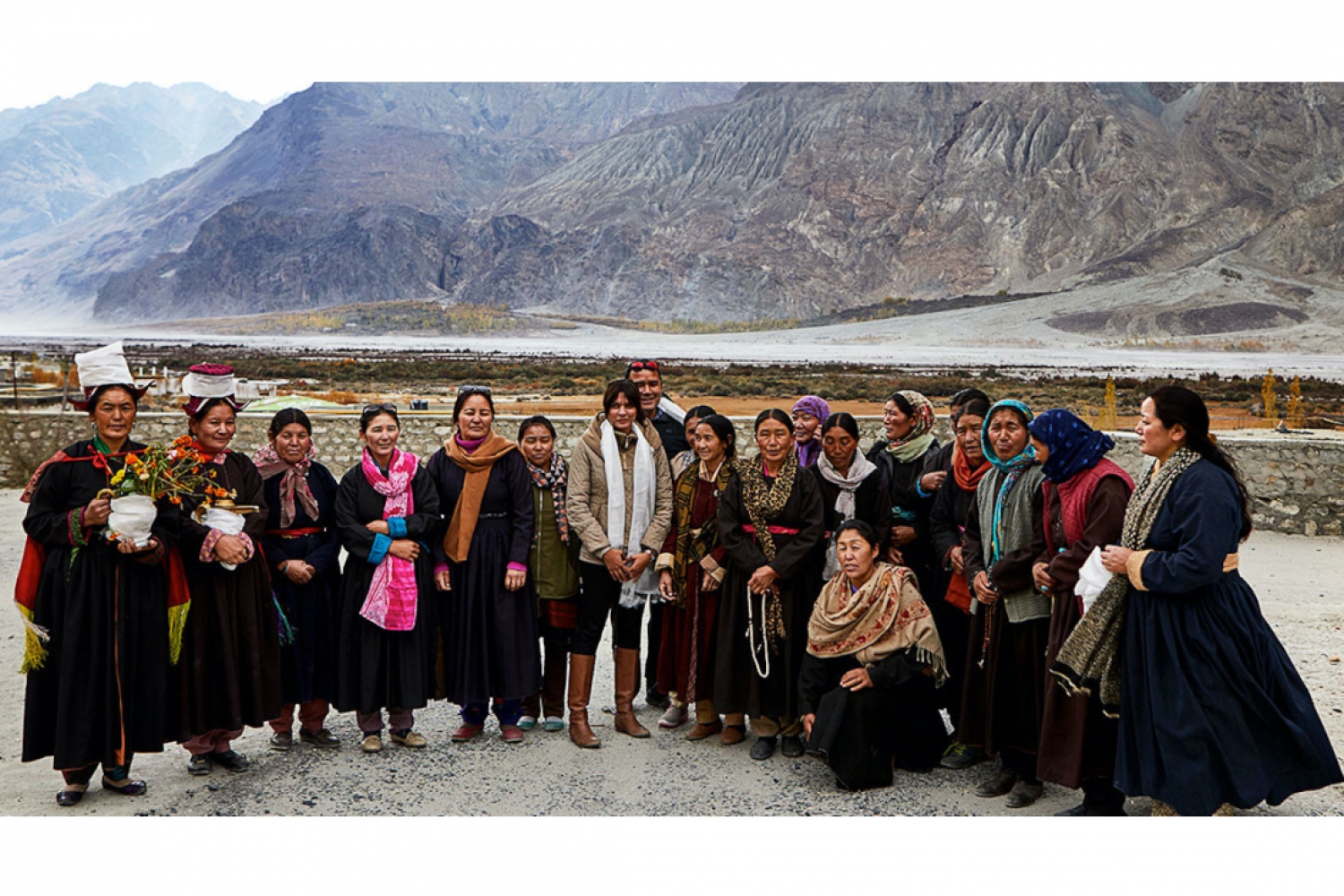 Pahadi Local
Jessica Jayne
Inspiration strikes in places you least expect, and that's exactly how Pahadi Local was conceived. "The path to wellness and skincare was serendipitous. I was living in Shimla about a decade ago, which is when I fell in love with the mountains, natural abundance, the people and their simplicity," says founder Jessica Jayne. She studied Economics, followed by Audio Engineering, however little did she know she will be creating and telling stories of "simple luxury". Pahadi Local products are not only artisanal but their purity, beauty and earnestness is felt in the ingredients and the process behind each creation. Below, Jessica tells us more about the independent boutique brand's journey and philosophy.
What inspired Pahadi Local? How was it conceived?
While living in Shimla, my skin began to peel in the winter, while all around I saw pink cheeks and beautiful hair! I tried everything, from expensive serums to medicinal creams. When all failed, I sough help from the beautiful Pahadi women around me, and their answer was unanimous — Gutti Ka Tel (Apricot Kernel Oil). It sounded right from the get-go and then arrived a jerry can from a relative's orchard, filled with this miraculous oil! Without the slightest exaggeration, I will tell you that my skin healed in a week. I became a firm believer and an evangelist of this fuss-free mountain remedy! This encounter with Gutti Ka Tel was behind the conception of my brand, Pahadi Local.
Your products are pure, unformulated, 100 percent natural and chemical free — can you tell us more about the process?
Pahadi Local tells the story of simple luxury. The sin- gle-source origin has been the founding philosophy of the brand. Our oils are cold-pressed and filtered only with muslin. All our powders — scrubs, salt, clay — are pulverised and filtered the same way. Nothing else added, whatsoever. I wanted to bring the mountains as purely and simply to people as possible. The journey began with sourcing Gutti Kernels from orchards and having them pressed under our direct supervision. Our explorations took us to the remotest parts to Ladakh, where I discovered that sediment salt from a pre-historic lake was used by locals as daily facewash!
Even more exciting was working with the local monastery to ensure sustainable harvesting for another product rarity. What a revelation it was to find an indigenous strain of Hazelnut, called Thangi, which grew in a small belt in Himachal. Our rare honey, Chichiri, is harvested at high altitudes for only two weeks in the whole year! Today, we work with monasteries, Forest Guard, horticultural and agricultural departments. The sourcing journey has been a stream of discoveries and one of the most exhilarating aspects of my journey.
Pahadi Local is not only about sustainable products but also about empowering and uplifting the locals of the region. Can you share a little about Pahadi Initiatives?
The mountains gave me Pahadi Local, and giving back to mountain communities is a core tenet from the inception of the brand. I consider myself fortunate that that my partners and our team are as committed to the source as I am. We work through three initiatives:
• Pahadi Empower: Creating employment opportunities for Women Self-Help Groups and Youth Groups in Ladakh, for collecting some of our raw materials. One of the fun projects we were associated with was enabling a boys' ice hockey team in Ladakh.
• Pahadi Preserve: Since we are a small brand and product affordability is key, we were unable to use glass packaging. Four years ago, we launched Pahadi Preserve to collect five empties from a customer's doorstep and incentivise them with a complimentary Gutti Ka Tel on their next purchase. Every year, we participate in afforestation drives with the Forest Department of Himachal Pradesh. We have planted trees by railway tracks, in fallow pieces of land, government schools and villages.
• Pahadi Love: This initiative is about acts of kindness. Carrying out collection drives for warm clothes for less fortunate children and construction workers. Organising medical camps for people in high-altitude area. This was especially important during the worst moments of the pandemic, as these regions have almost no access to healthcare and our concern was their safety and wellbeing.
How has the story of Pahadi Local evolved since its inception?
Over time, Pahadi Local has grown from one product, Gutti Ka Tel to twenty-seven products in five years. Our offerings now include cold-pressed oils, powders, mists, honeyand teas, while keeping to our philosophy.
Our first retailer — a dream come true— was Good Earth, followed by Taj Khazana at Taj Palace Hotels. Today, we are present in forty-four stores across twenty-four cities, and on six e-commerce platforms. Recently, we became the first Indian brand to become a spa-service partner for French salon and spas, Jean Claude Biguine. I am grateful to say that from the humble beginnings and being a one-woman team, today we are a team of professionals with leaders from across the industry, passionately driving the brand alongside me.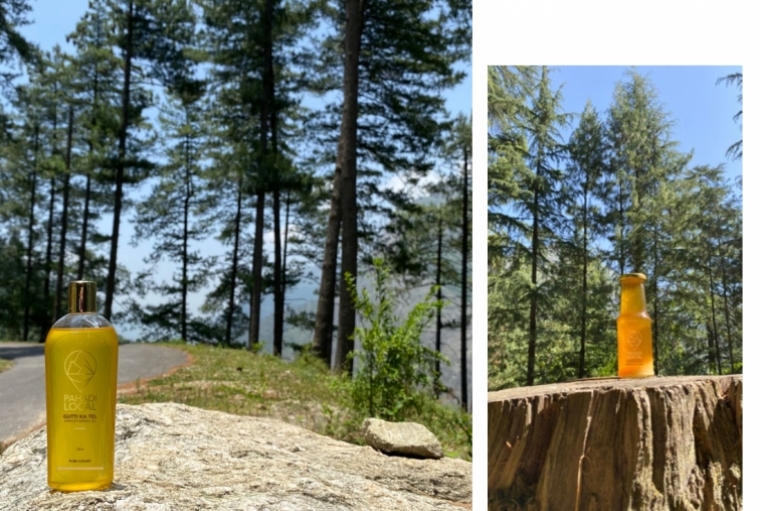 What are some challenges you have faced, considering you are an independent boutique brand?
We are an independent boutique brand, built with a focus on positioning and patience. While we have consciously chosen to exist in a niche market, we regularly have to think about business sustainability, where we grapple between being niche and aspirational, versus scalability and growth.
What is the importance of wellness and what is beauty according to you?
I believe that both wellness and beauty come from within. If we have consciously decided to be well, take care and nourish ourselves, then it becomes a way of life. This is of utmost importance — to make and live the choice.
What has been your take away from the previous year, which was extremely challenging and concerning?
While the past year came with challenges on multiple fronts, it also showed me to value things and people that we may have begun to take for granted. On the business side, it unexpectedly opened up a lot of personal interactions with customers, giving us invaluable insights. This helped form the platform for our future planning.
Lastly, where and how do you see the brand escalating and reaching more homes?
Our drive is to take the idea of simple, single-origin products and remedies to a wider audience. Digital has become the primary platform to reach more homes and become apart of people's daily lives. I have begun to see purchases from across India, apart from major metros, which is proof of a wider reach, and in turn, brand escalation.

This article is an all exclusive from our September EZ. To read more such articles follow the link here.

Text Shruti Kapur Malhotra
Date 29-09-2021