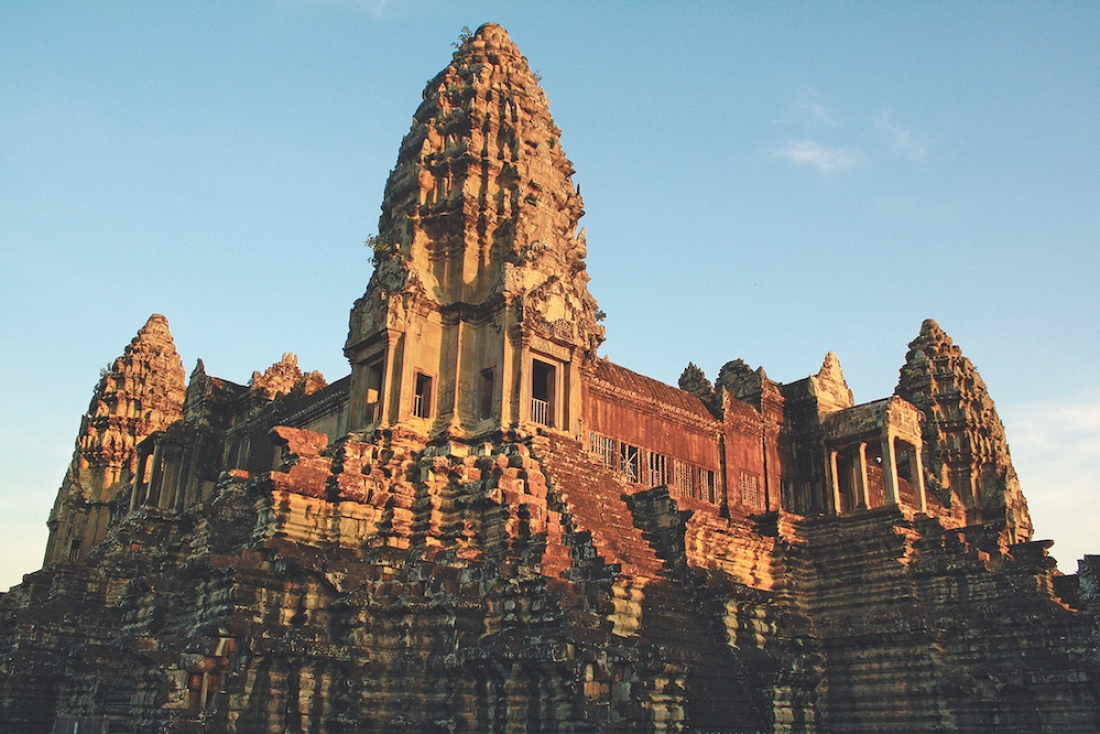 As a child, I had sat nestled in my father's arms as we watched the 1984, Academy Award winning The Killing Fields. The film not only depicted the tumultuous, haunting history of the Khmer Rouge regime that left the country scarred, but also captured the stunning landscape of the land of Kampuchea (now known as Cambodia). The Killing Fields left an inerasable mark in memory and needless to say, I hoped to visit this land of countless stories when I grew up. Last November, my wish was granted.
Minutes after crossing the Thailand border at Aranyaprathet, my family and I hopped into a car for a two-and-a-half hour long journey into Cambodia to reach Siem Reap. As we inched towards the province, the countryside offered a mesmeric interplay of rambling, lush green rice fields against the canvas of dancing cotton clouds. We crossed several villages en route, many defined by stilted houses and swinging hammocks within. Palm leaves woven into bamboo sticks formed the roof and walls of these houses, while the stilts (which went as high as three metres above the ground) were constructed from teak. These stilts ensure that the annual floods don't affect the main structure of the house, and the space below can be used as livestock shelter.
Man arranging Water Lilies
When we entered Siem Reap though, it felt as though the entire map of the country was flipped over and re-drawn, for the province appeared to be a commercial jungle – conscious of the tourist-flocks it shepherded every year. Rows of extravagant hotels stood lined up on either side, where the staff members would greet you with joined hands and open doors. The sun had receded and had taken refuge behind the clouds. Tuk-tuks carrying wide-eyed, camera-armed tourists scurried by, while locals wearing straw hats rode on bicycles; some singing traditional Khmer songs. As I tried to soak in everything, my eyes spotted a lady selling Cambodian street 'delicacies'. There lay an assortment of fried silk worms, grasshoppers and roasted frogs on a stick. With the intention of being slightly adventurous, I halted the car and hopped out. The lady upon noticing the advent of a curious customer, smiled and selectively picked out a 'delectable' silk worm. She then thrusted the deceased insect towards me, hoping that I would give it a go. And a go I did. It tastes like a nibble out of a fried chicken leg, if you ask me, and you can purchase 50 of these silk-spinning geniuses for about one dollar and 25 cents!
We had entrusted the job of planning our itinerary to Mr. Siya, a humble, well-informed local guide (thankfully fluent in English) who knew Siem Reap inside-out. He suggested that we should begin our tour with the web of temples Cambodia offered. Siem Reap is known for its magical Khmer temples, and a 20-dollar ticket can ensure a tour of most of them within the Angkor Archaeological Park, including the world's largest Hindu temple, Angkor Wat (which literally means, 'City of Temples'). Built during the reign of King Suryavarman II in 12th century, a 570-feet-long moat encircles this magnificent structure. Unlike Suryavarman's predecessors who had earlier constructed temples solely dedicated to Lord Shiva, Angkor Wat is the only sacred structure devoted to Lord Vishnu. This Khmer heritage is defined by its stunning wall engravings – from dancing apsaras and other deities to descriptive battle scenes – it's all there, including the intricately, hand-carved epics of both the Ramayana and the Mahabharata. At the entrance stands the statue of Vishnu which earlier rested within the temple's central shrine. On his extreme right, a decapitated statue of Laxmi stands clothed in golden and emerald-toned drapes. Siya informed us that the temple also treasured several inconspicuous statues, each of which have been beheaded. The heads were looted and sold across borders by thieves. Angkor Wat appears majestic during the sunset, and I would highly recommend you stay behind for it. Drowned in golden glow, one stands bewitched, admiring the centuries-old creation.
Few kilometres away lies the 12th century, Bayon style temple of Ta Prohm (originally called Rajavihara). A gateway of overarching trees and cicadas singing in seemingly orchestrated harmony welcome you. Built by King Jayavarman VII, the temple was abandoned post the fall of the Khmer Empire in 15th century. Now a UNESCO World Heritage site, Ta Prohm is a magical temple ruin marked by moss-laden sandstones embroidered with meticulous carvings and a spectacular sky-scraping, silver silk-cotton tree that stands intimidatingly near the entrance with yawning arms. But what accentuates the eerie nature of this temple are the gigantic tree roots which have slithered, coiled and entangled around the patient structure over centuries. So arresting is their presence, that Lara Croft: Tomb Raider's director, Simon West was convinced that a scene for the film had to be shot here.
The next day, post an indulgent Cambodian massage, we scootered to The Killing Fields Memorial. A stupa stands quietly in corner; nameless, bullet-holed skulls and bones lie one on top of another, now resting peacefully within. It was here that I took a plunge into the traumatic past of the country – one riddled with ruthless massacres engineered by the Khmer Rouge (Red Khmers who belonged to the Communist Party of Kampuchea). Led by Pol Pot, the Khmer Rouge ruled the land from 1975-1979 and believed in transforming Cambodia into a dictatorial, communist country. Instead it left behind a land drenched in blood. During the six years, a brutal and systematic erasure of the educated class, intellectuals and other urbanists who may have posed a threat to the regime was carried out. The mass genocide wiped out about 2.5 million people.
Statues of an Asura (Devil) from the 'Churning of the Sea of Milk' myth
Noticing that I was left unhinged and overwhelmed, Siya decided to enliven my mood a bit. We decided to head to the floating village of Tonle Sap. The Tonle Sap Lake is ideal for fish and shrimp harvesting and is thus a good source of livelihood for the locals. As you reach its fringes, countless multihued, stilted huts stand huddled haphazardly. Several self-driven boats float across the expansive navy-blue water empire; occasionally a boat receives a gentle, unprecedented nudge from another. A torrent of dragonflies dance about, dipping and soaring in the sky. The wind ruffles your hair and you stand mesmerized by Tonle Sap's vibrant and upbeat pulse. A 20-dollar ticket (per person) can get you a boat ride on the ten-metre-deep lake. There are thousands of panoramic frames that you can capture – a child surges to-and-fro on a faded hammock, a dragon fly skips by on the waves, a fisherman throws a bedraggled net to take home some catfish, a family meanders nomadically in its motor-installed houseboat and a few women hawkers shout out showcasing freshly cut mango and pineapple slices encased within plastic sheets. As we charted the deep sapphire blue waters, I was hushed into stupor by the glorious sunset that coloured the sky in striking red and orange hues. No words could possibly describe that moment.
When the night collapsed into silence, we headed back to the hotel. Fireflies raced into oblivion with our tuk-tuk, and the stars came out in designed constellations. This was our last night in Cambodia and I held closely onto my camera, realizing that the photographs were the only tangible memory I could take back home. Though even the photographs could possibly never justify the remarkable calmness and beauty I found in a land that was once steeped in violence.

Text Radhika Iyengar