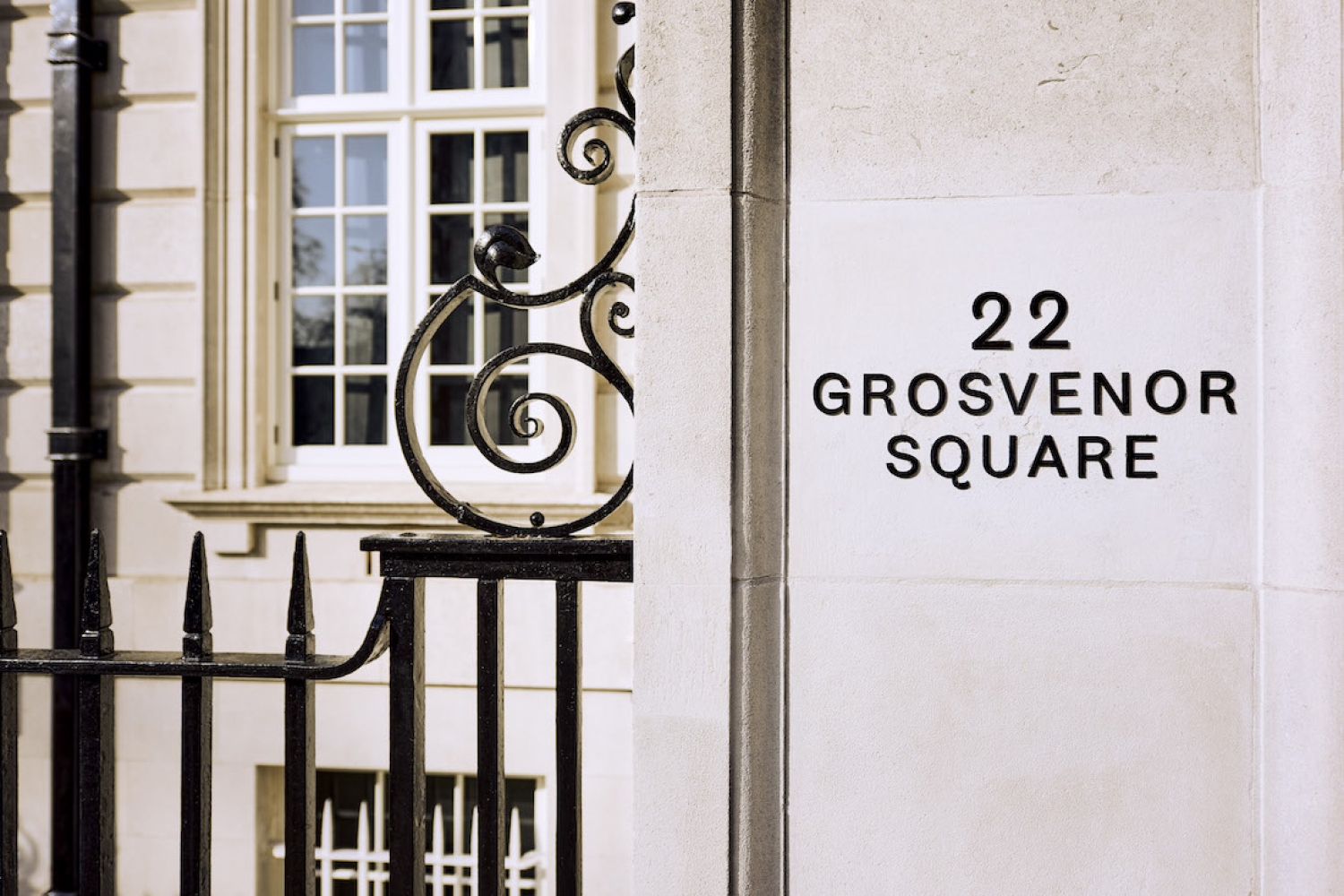 Built in a storied Edwardian manor on Grosvenor Square, The Twenty Two is a boutique hotel and a cultural space specially designed for the curious and the creative, dedicated to finding a moment of tranquility away from the buzz that surrounds London. Situated right along the northeastern edge of Grosvenor Square, the boutique property is close to the gardens that make way for North Audley Street.
A highly personal affair, the thirty one rooms and suites at The Twenty Two come with the most sinuous details embroidered into every stay. Each one is layered with its own character and designed to reflect the individual tastes of the guests and educate about the manor's history as a family home. Paying homage to eighteenth century Parisian design elements, opulent and maximalist in its nature, there are custom-made four poster and canopy beds, draped with luxurious Egyptian cotton linens. Adorned with rich silks and lavish velvets the furniture and furnishings are replete with colour and pattern. All perfectly balanced and held together with modern conveniences. Elegant cabochon marble bathrooms are endowed with luxury, carefully curated with the utmost wellbeing in mind.
The Butler and Concierge teams are on hand to curate and guide every aspect of one's stay, both inside and outside of The Twenty Two — should the guest feel the need to explore the city and the historic vicinity around. The bar-lounge area that comes under the Member's Club area but is also open to guests has a bohemian feel styled with ruched linen curtains, velvet seats and extravagant rainbow-hued wall-lights. Brainchild of Navid Mirtorabi and Jamie Reuben, they explain, "The ambition for The Twenty Two was to create a space where the creative and the curious, in London and globally, can come together and feel welcome; a living room of sorts where guests feel inspired and at home in their surroundings."
A great addition to the property, the neighbourhood restaurant brings a Mediterranean touch to modern British fare. With Executive Chef Alan Christie at the helm, the menu is carefully curated to minimal intervention and offers an uncompromising, lighter style. The drinks are pleasurable concoctions , where classic cocktails find a special mention with their original recipes, united by mindful practice and the highest quality ingredients.
Built as a private members' club the property delights those who desire discretion and quietude from the city. The dedicated setting for private soirée has an idiosyncratically charming flavour, is extravagant and yet provides a cozy feeling. The property offers especially customised menus to create a centrepiece and hand-painted scenes that are embellished by silk wallpapers. Bringing alive the nostalgia and the allure of the past in a contemporary setup The Twenty Two provides a fuss stay for the urban traveller looking for a getaway.
This article is an all exclusive from our November Bookazine. To read more such articles, grab your copy here.
Words
Unnati Saini
Date
11-04-2023