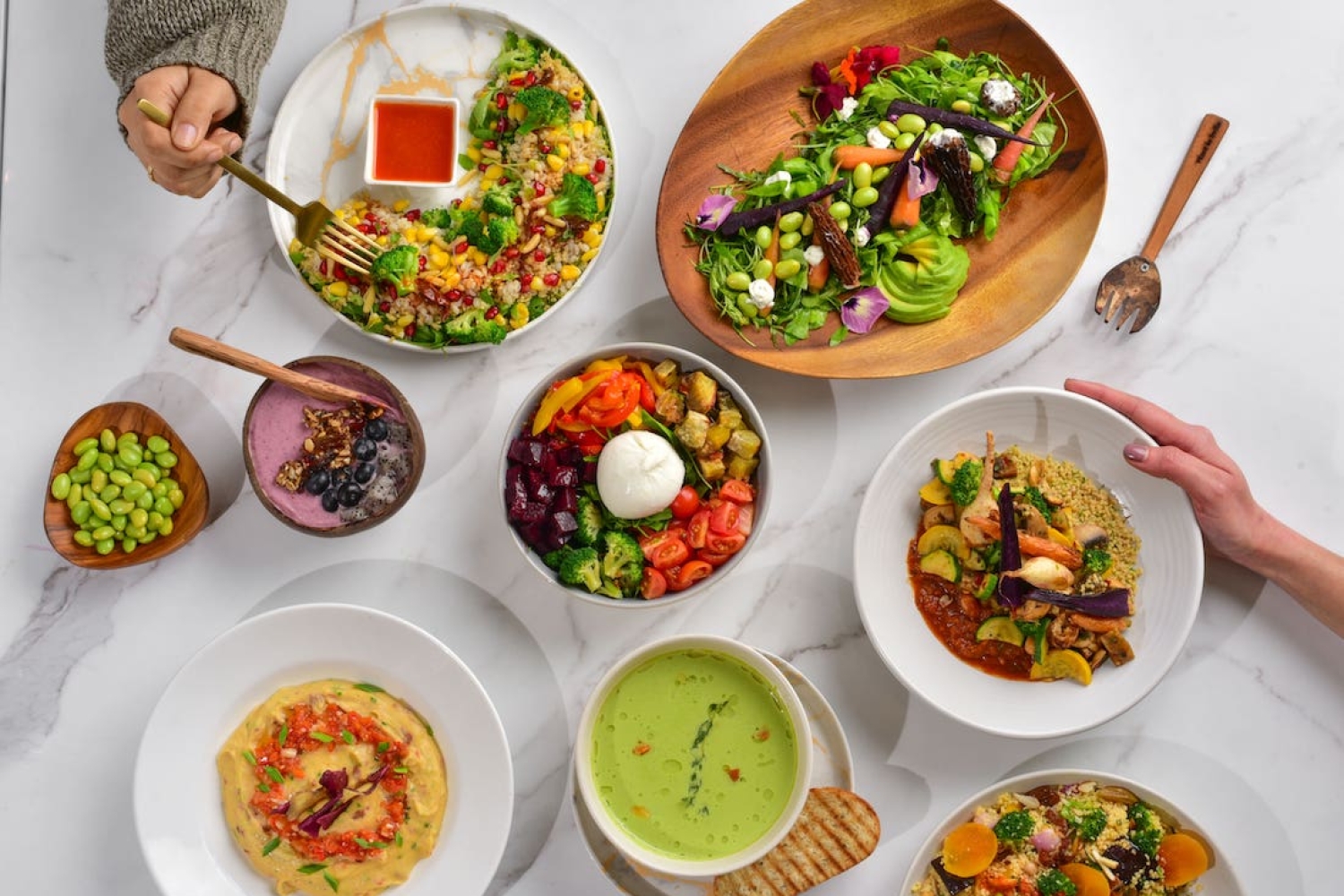 There's just something about Sunday brunches, you go to bed thinking about it and you wake up in the morning pondering about the delicacies on which you'd like to feast. Before you even know it, the very idea of it makes you feel gluttonous. That's how I spent a recent Sunday — thinking about good food and consuming even better food. A perfect day out planned with a dear friend as we gushed about watching Shah Rukh Khan on screen again, it would've been rather unfair to end the day with just popcorn at the cinema. We decided to go with UnCafe, an advocate of mindful eating choices, as they've introduced their new outlet in Select City Walk, Saket, New Delhi. The brand emphasises on breaking the notion of healthy food being boring with its elaborate salad bar that celebrates the concept of 'Build your own bowl'.
Designed by TI:DO, the restaurant features a fluted arched entrance — a gateway into a peaceful sanctum where guests are able to step away from the chaos for a refreshing experience, complete with a sumptuous meal. UnCafe embodies wholesome eating with some new additions to the menu, like hearty warm bowls — Khow Suey, Tex Mex bowl, et cetera. Making healthy food unconventional yet delicious, there is a selection of comforting soups, open toasts, smoothies, and more.
The menu is extensively vegetarian, with new additions of vegan options and cage-free eggs. The dishes are curated using real and hydroponically grown produce. The restaurant brings delectable farm-to-table meals curated with carefully picked fresh, quality ingredients from locally owned farms in Delhi NCR. While my own choices included the smoothie bowl, my friend opted for the avocado toast and both of us further enjoyed the absolutely decadent hot chocolate. We found ourselves in a certified food coma but most definitely one that was guilt free.
Talking about their decision to come up with a concept like that of UnCafe, founders Sanskriti and Riti Gupta tell me, "Our journey started with one question - good food can fill you, but can it complete you?' And while looking for an answer; we stumbled upon UnCafe. We knew small steps taken together can bring enormous changes and Uncafe is all about taking such steps. While we track your taste buds, we also track our supplies with utmost sincerity, so that we can give you unmatched quality, assuring you clean compromise-free food. Our little endeavour is a step towards identifying nutritious ingredients and transforming them into unforgettable meals." A girls day out well spent, I definitely recommend our readers to not miss out on this gastronomical experience.
Words Unnati Saini
Date 17-02-2023