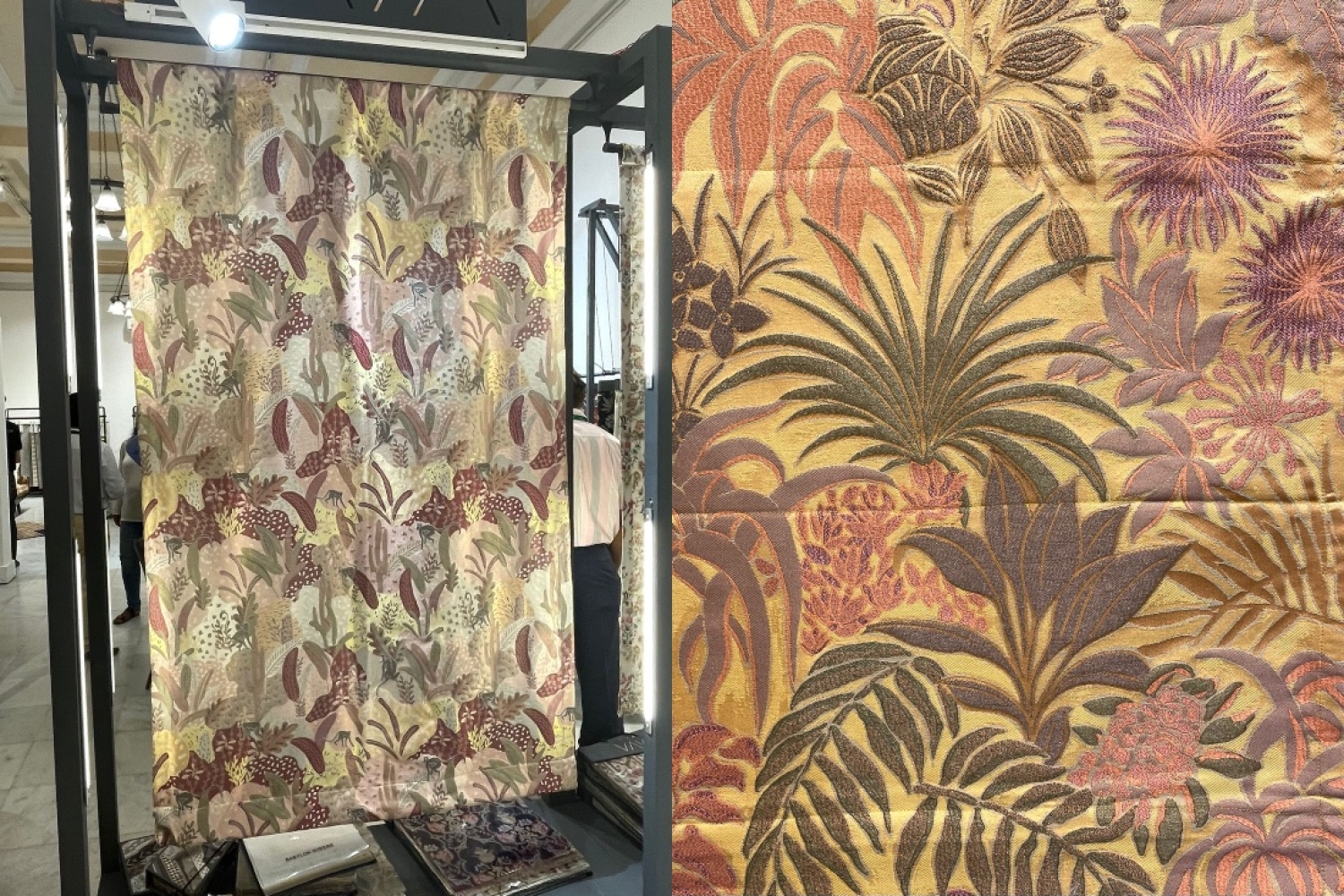 VAYA Home at Bikaner House
VAYA Home is a Bangalore-based textile studio by Universal Textile Mills. They design, curate, and produce luxury drapery and upholstery fabrics for homes. Recently, the brand displayed their new collection called The Poetry of Art in Nature at The Design Edit of Bikaner House, Delhi. Abhay Jaipuria, co-founder of VAYA Home, gives us some insight into their creative process and design inspiration behind the new collection.
The Collection
This display of twenty-five collections is predominantly floral and an ode to the relationship between art, nature and its interwoven presence in our lives and cultures. A floral journey of fabrics, it takes one through the royal gardens, the mesmerising ponds and the art from which it's inspired. The collection consists of unique visuals, textures and colours, consisting of intricate embroideries, both ethnic and modern, a series of woven jacquard panels, digital prints on cotton, linen and handwoven silk fabric from the weavers of Benaras. A colour scheme of mostly primary tones involving the yellows, blues and greens, this collection is a treat for the eyes.
The Inspiration
This collection is mainly inspired by florals, Japanese ink art and wood etchings. We have taken flowers and reinterpreted them into patterns. All these patterns are inspired from both Indian and Asian designs. Much of these are from the brand's historical archives and the travels we have made over a span of forty years. I'm thirty-two and what I've realised is that for a young, affluent, well-traveled person, there's really not much fabric out there. So the collection has sophisticated patterns, but are also edgy and quirky. It's basically all art translating onto fabric.
The Creative Process
We always come up with a concept first, then we identify themes and later create an entire collection around it. We have archives in terms of techniques, designs, and colours and we always revisit these archives to see how we can reinterpret them for the modern world. The weaving techniques are always central to our mill, but it's just the artistic translation that is inspired from different sources. We take those designs and then start reinterpreting them while making the patterns a little larger, the colours a lot more bold, and changing the cloth composition to a more sturdier version. With an in-house team of artists, we first revisit the past, then look into the future and blend these two. As a luxury lifestyle brand we don't do that many products every year, but everything that we do has to be special so it's always 'quality over quantity'.
Text Samridhi Singh
Date 15-07-2022