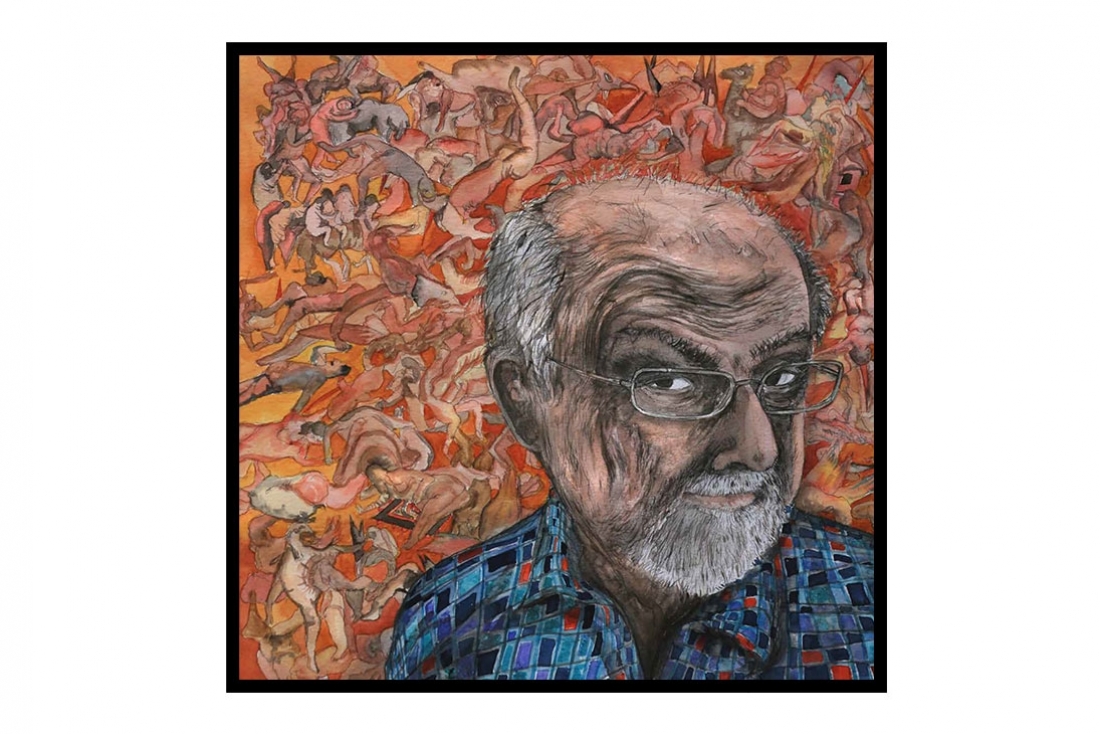 Art by Nityan Unnikrishnan
I've been reading aloud passages from the book to the Siyahi team because the chortle and the chuckle, the troughs of severe indictment of our world, have to be heard through voice intonations. Yes, it's a wild, further-ahead-than-post-modern piece of literature; a ripping satire that does what Cervantes did in Don Quixote, a treatise on the times that he lived in, to put it simplistically.
Rushdie creates Quichotte [Ismail Smile], an ageing, travelling and soon-out-of- work pharmaceutical salesman who travels through America and in a parallel narrative through the UK, journeying towards his lady love Salma, a TV star who is also an opioid user. Ismail, an addict of American TV, which also affects his brain, imagines a son, Sancho,during this journey, who comes to him from the future back to the present. You can see that Rushdie takes control like a master holding a magic wand in one hand and a playful brush in the other, and he makes the real co-exist with the unreal to the point where the reader has to shake her head and constantly tell her mind that it's happening and what happens will unhappen. Because Quichotte is someone who "fell victim to that increasingly prevalent psychological disorder in which the boundary between truth and lies became smudged and indistinct, so that at times he found himself incapable of distinguishing one from the other... and began to think of himself as a natural citizen [and potential citizen] of that imaginary world." Before Quichotte meets Salma, he wishes to expunge his past and meet his estranged sister, the Human Trampoline who discovers in full melodrama that she has cancer.
It's easy to say that Quichotte brings us face-to-face with the ugly, disoriented, increasingly-polarised-in-more-ways-than-one social structure, as if we are all floating in our own imagined, or real-unreal perception of life as it unravels—be it Trump's US, UK, India or the rest of the world. Racial attacks, substance abuse, in this case Fentanyl spray, the #Metoo movement, the Indian government, climate change, Brexit—no one is spared. Rushdie's writing has the effect of a panoramic sweep given that it is a picaresque of magnitude.
"Lampooning" is the right word here when Rushdie deals with "the destructive, mind-numbing junk culture of his time". In the early pages of the book, there is one masterful sentence that subtly hints how it will all end—"The world might end, as at least one prominent scientist-entrepreneur had begun repeatedly to predict. An evil scent would hang over the ending." It is layered in a way that you tend to fall through its fault lines as they shift at a pace that moves at high speed. So much so that I felt the need to stop, go back, cross-check if I missed a reference or the under-the-skin depths of the narrative's tissues. "And after all it was the age of the invented name. Social media had made sure of that. Everyone was someone else now."
The references to pop-culture, popular songs, Hollywood, TV shows, and Bollywood are rife. There is an underlying note of a niggling pensiveness that comes with Rushdie's bite, from handwritten love letters written by Quichotte as he embarks on his journey to proclaim his love for Salma. He believes that love will bring them together. We travel through the seven valleys which works as a metaphor for the book, with Quichotte, ride with his elation, fall to depths with his despair, are left with our mouths agape when we meet the mastodons and mystified when we tackle Mr Scent and all the scientific phantasmagoria. There is a story within the story—both Smile and Sancho are fictional creations of Sam DuChamp [brother], a second rate Indian-born author of spy thrillers, who has a sister and there is a daughter by this sister. There is a formula at play—a full-throttle one.
Like a hand-sewn patchwork quilt, we see the narrative cross between genres, and peri- ods of history from the 17th century to the post-modern. Rushdie has always had a thread of migrant stories within his larger composition and it is at play in Quichotte as well. The characters play out a choreographed dance, swaying, changing, going through life's vicissitudes as they plot their own movement while Rushdie has other plans for them.
He takes us through a virtual tour of genteel Bombay as it existed during Smile's childhood with hinting nostalgic notes that are almost lyrical. Salma's rise to stardom and her back story; R K Smile, a relative of Ismail Smile; Mr Evel Scent who is a take on Elon Musk, like in a movie running backwards, forwards, diagonally and just everywhere, both expansive and absurd. At different points in the book, there is a slackening in the tautness of the expansive tapestry, at times tediously demanding. It makes one feel that the author has cramped too much into the plot.
The willingness to suspend all kinds of belief is a demand that the book makes, as you move between fiction, reality and meta-fiction, much in the same way as Don Quixote does. We are all moving towards the final end. Each character plays the part and comes to his/her self. The story at the heart of it all is the search for love, the handling of loss, the finding of oneself to face the untruths. Like Quichotte while conversing with Sancho, his real-unreal son, "systems of thought and their antitheses as well, are merely codifications of what we think we know. When we begin by abandoning them, we open ourselves to the immensity of the universe, and therefore also to immense possibilities, including the possibility of the impossible, in which category I place my quest for love."
On another note, Rushdie was in Jaipur a few years back. I remember that he went shopping for pashmina shawls with a colleague, had bhelpuri outside Birla Mandir, and spoke to students at a school apart from his main session. Those were simpler times, he didn't need any security, in fact he refused it. In fact, during the only one-on-one and a very in-depth interview he did during his stay here was with moi, which became a cover story in a leading daily. At the end of that interview when asked how his experience was in Jaipur, his eyes crinkled up, twinkling with mischief, "I've had a terrible time...". When he saw how stricken I was, he held my hands and finally said, "it couldn't have been better".

This review initially appeared in our October 2019 issue.

Text Mita Kapur
Art Nityan Unnikrishnan