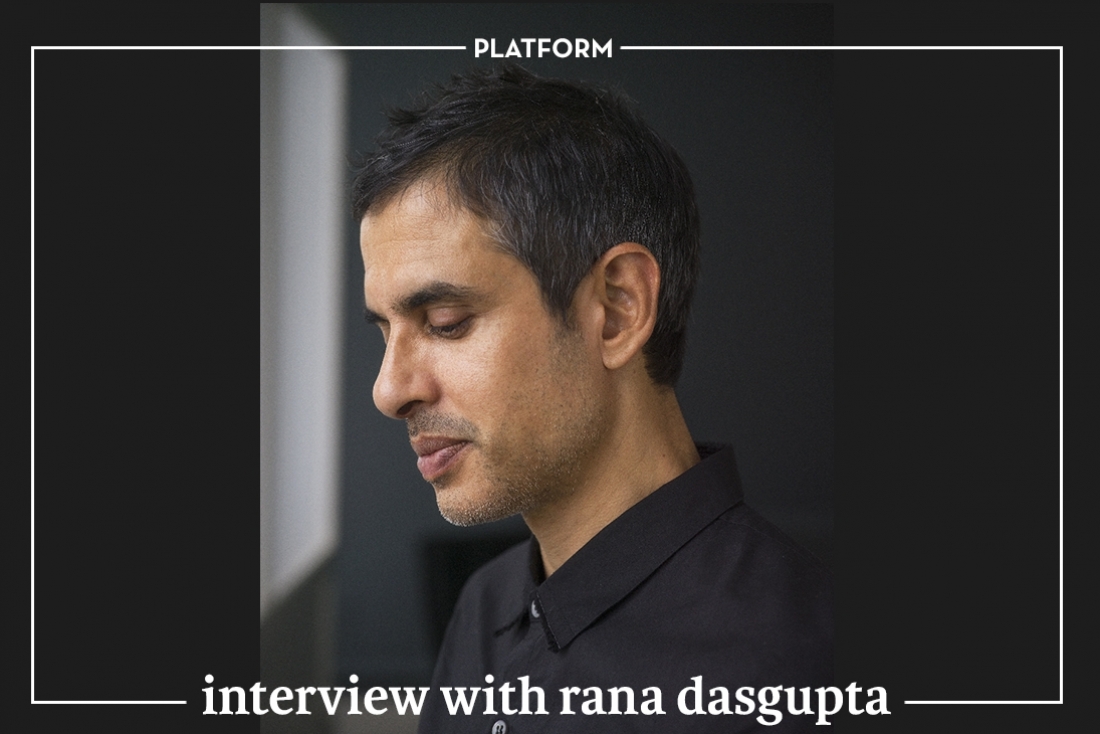 INTERVIEW OF THE WEEK
Photograph: Nina Subin
Rana Dasgupta
JCB Prize for Literature
The JCB Prize for Literature was established in 2018 to enhance the prestige of literary achievement in India and create greater visibility for contemporary Indian writing. Funded by JCB and administered by the JCB Literature Foundation, the prize also encourages translation and aims to introduce readers to works of Indian literature written in languages other than their own. As the longlist for this year's prize will be announced this week, we connected with Rana Dasgupta, the prize's Literary Director, to hear more about it. Excerpts follow:

How was the association between you and the JCB Prize for Literature brought about?
Well, I lived in Delhi for nearly twenty years and one of my preoccupations was the question of what creates a mature and exciting literary environment. Of course from 2000 when I arrived in Delhi to 2018 when I left, there were huge changes in the book scene. Publishing houses were more sophisticated. Books were more professionally produced, and literary criticism was better. But there wasn't a truly great literary prize. And that was a problem because increasingly people didn't know who they should be reading. Foreign prizes like the Booker and the Pulitzer were by the far the most significant for Indian book buyers. But today there's much more literary fiction in India, and most it is not even read outside the country. So I felt we needed a great domestic prize to draw attention each to the those works of Indian literature that were really important and enduring.
At a certain point I got a call from JCB, whose Chairman, I learned, was thinking something similar. He wanted to set up a prize for Indian literature in recognition of his personal affection for the country, and JCB's long association with it. It was immediately clear that JCB was very, very committed. They wanted it to be set up so it could endure for decades. They wanted to make it financially significant. They also understood what a literary prize needed, that it needed to be independent of a corporate marketing program and it had to have the highest standards of integrity. So we began working together. The first prize was awarded in October 2018.
"The idea is that great literature is for everybody and it should travel far and wide."
As the Literary Director for the prize, what is your vision for it this year?
We spent a lot of time developing the vision in the first year and it remains broadly the same. The vision consists of three things. Firstly, we want to enhance the prestige of Indian writing, in India and around the world. We then want to give writers a greater voice in Indian society. We feel it's not just actors and politicians and businessmen who have useful comments to make about social and political issues, but writers as well. Lastly, we want to really enhance translation. We feel that in a country of so languages, if we don't have a vast amount of translation happening, then we begin to have a fragmented country. Right now the country is going through a lot of turbulence based on the fact that we don't really know or understand each other. So those are the essential aspects of the prize's vision.
For this year's we have the filmmaker and environmentalist Pradip Krishen as the chair; the others are Anjum Hasan, author and critic; K.R. Meera, author; Parvati Sharma, author; and Arvind Subramanian, economist and former Chief Economic Adviser to the Government of India. They are all passionate readers, very eminent within their respective fields, and I think they have had fascinating debates about the books we've sent in their direction.
As the prize enters its second year, we have more ambitious plans for taking the books selected by the jury to a very vast public. We have all kinds of partnerships – Vogue, WHSmith, Amazon, FabCafe, Books on Toast – each of which introduces a different group of people to our shortlisted books and their authors. For the Vogue partnership, we organize each year for a great photographer to shoot portraits of the five shortlisted writers; this year Anita Khemka, who's a really fascinating and amazing artist, will do these portraits. The idea is that great literature is for everybody and it should travel far and wide.
"I think the key thing about the literature of India today is variety. We are increasingly moving towards a literary scene as varied as the country itself."
You spoke about translation and there seems to be a trend towards more books being translated worldwide. Do you feel publishers now are seeing more value in investing in translations?
Yes they are. There have been far more translations in the last few years, and of much better quality. We're still trying to push things further. Firstly on quality. There has been a feeling that translation is a mechanical job rather than an artistic one. We at the prize want to reward the artistry of translation because when you read a great work of literature originally written in – it could be French, Spanish, German, Tamil or Bengali – it should read as a great work of literature in your language as well.
The second thing is that publishers were mostly translating older literature. They were focusing on classics, for which they knew there was a market. We're encouraging publishers to publish books written within the last few years. We think that Indian literature should also exist immediately in the other languages so that a broad public can have a conversation about it.
What are your views regarding the current literary scene in India and where do you think it is headed?
I think the key thing about the literature of India today is variety. I think to some extent the publishing industry is seeing greater and greater democratisation. So you see a greater variety of people being published. In the entries for the prize this year, we had writers aged between 25 and 75, approximately equal men and women, a great range of class and caste backgrounds. Entries from 14 States, originally written six languages and looking at a vast range of subjects. So I think we are increasingly moving towards a literary scene as varied as the country itself. I also think that this year's entries show a great preoccupation with political and social turbulence. Gender violence was a strong theme in the entries we received last year and it continues to be so.
The increasing variety makes it difficult to identify the future themes of Indian literature. I don't think Indian writers feel anymore that they have to define the nation. Now the themes are much more detailed and varied. Literature is more engaged and more exciting in many ways. It has spread out and is concerned with describing the many, many different types of people and situations that make up India today.