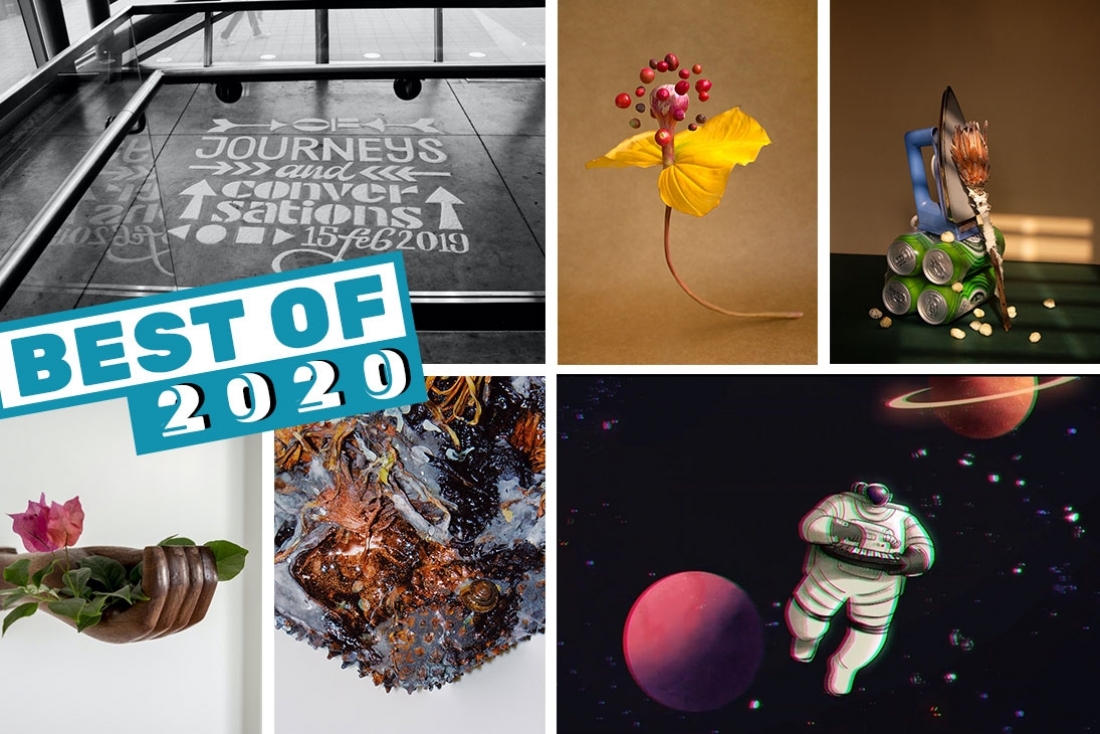 Design can either be functional or aesthetic, but more often than not, it communicates a story. Good design has the potential to innovate and incorporate clever changes, to solve the problems all around us. While the pandemic hampered development for many, some individuals and firms took it as an opportunity to hone their creativity. We interacted with a melange of both upcoming and seasoned designers, ranging from graphic and visual to architectural firms, who have continued to make a difference. Here's presenting the Platform edit for the best of design we've featured in the past year.

Rahul V Mathew: Visual and Graphic Designer
I would love to start a project around the concept of the drastic change the pandemic has brought into our lives, looking at the contrast of the situation. A before and after of sorts. In my recent art series on COVID awareness, I have tried to subtly increase awareness by using varied elements in the artworks that aren't too over- whelming. Hearing a lot of news and seeing statistics of the virus outbreak can be overwhelming. When such complex information is communicated in a visually pleasing manner, it helps communicate the gravity of the situation.
To read more about the artist grab a copy of our all new Platform Bookazine.
Elemental by Amrutha Kishor: Architecture Firm
Design does play a huge role in our lives. For example, at the moment we're all working from home. It makes a huge difference if people's homes have been designed in a manner that can facilitate the work they do. One way of looking at it is through the facilities you may have. While planning homes, there needs to be the space to put down a study table and work. Like I mentioned earlier, another aspect is the sick building syndrome that makes a huge difference. If the space isn't well lit or isn't ventilated enough, it won't be comfortable for one to sit and work. While we can't predict a pandemic, good design should consider multiple aspects including these ones. It is also about uplifting the public space in a manner that helps deal with the social evils of that particular region.

Read our interview with the architect here.
Priyanka Shah: Graphic Designer and Visual Artist
As humans, we're conditioned to make sense of objects instantly. Through deconstruction and juxtaposition of these elements, we strip them off their learned meanings and play with the deep conditionings of our minds. Nowadays, many disciplines of design tend to overlap with each other, and my working style looks to build off such 'intermingling of mediums.' Working with different disciplines also allows me to collaborate with various professionals in the design community, which helps in adding another dimension to the final work. I enjoy combining the unexpected, challenging the pre-existing notions and uncovering new aesthetic sensibilities. Considering the quick pace at which projects and assignments were being executed prior to the lockdown, it was a welcome break and allowed some time for retrospection. I was able to use the time to explore different dimensions for my work and define where the studio should focus.

Read more about the artist here.
Isha Pimpalkhare: Textile and Mixed-Media Designer
Art and design span from being a tool for critical commentary on society, to a very essential tool in terms of communication. Though not an essential service in times such as the pandemic, they almost become like a mirror, pushing us to introspect and retrospect our actions as the collective human race. My hope is for the viewer to really engage and immerse with the material, familiar experience, forgetting just for a moment about everything else they might have on their mind. I would like that the slow controlled movements bring about a sense of calm and ease.

Read more about the designer here.
Studio Momo by Meetu Akali: Architecture and Interior Firm
I see design as a more holistic thing. The role of design in the pandemic is to bring about mindfulness. By that I mean, for example, if a space is created, a home is created, then one has to be mindful of the fact that we're in sync with nature, to avoid such future pandemics. Other than that, one should try and be more self-sustaining, self-reliant and self-sufficient. Each home then can be totally off-the-grid and can still sustain itself in the future. I think going forward, this is going to be a requirement for everybody, where it's not just about how big your house is. It's about things like having your own vegetable garden, growing your own food, and designing a house that can sustain itself efficiently if there's a power cut. Things like is it designed to be in sync with nature, is it highlighting land, enhancing natural light and supports circulation of breeze, will matter. And how self-sufficient can architecture be — I think these things are very important.

Read our interview with the founder here.
DeMuro Das by Puru Das & Brian DeMuro: Interior and Architecture Firm
In our practice, good design is something that remains utterly borderless. Design should strive to move us forward as a society in one way or another, by bringing comfort to the user, increasing visibility on a cultural issue, or pushing previously set boundaries of production. There is room within this world for a whole gamut of design, and we believe that diversity is paramount to the landscape of design as a whole. Of course with the pandemic, we've also been pushed to adapt our production processes in ways that we could have never foreseen. This is all to say, that adapting to the situation has made us more resilient business owners and more innovative designers as well.

Read our interview with DeMuro and Das here.
Debjyoti Saha: Animation Designer
My series is called Korona, which is a pun on the pandemic and the Bengali word for 'Don't.' The series focuses on all the things people shouldn't be doing in the midst of a pandemic, or otherwise, and talks about how during desperate times, people become their worst selves, so much so that a pandemic doesn't seem to be a bigger problem than many of society's deep-rooted issues anymore. What better way to put the point forward than satire. Satire has this unique quality of treading dangerous territory without being overtly offensive, which helps show a truer picture of people to themselves, while they have a laugh about it. I guess people found it quite relatable because of the certain guilt that the films helped address. The intention was to urge others to do something more about it, after acknowledging it. Some did, some didn't. It's a film at the end of the day. One can watch and enjoy all they want, but what they do with what they understood from it, is completely their choice.

Read our interview with the artist here.
Kushala Vora: Mixed Media Artist
Although this has been a challenging time, the pandemic has presented new opportunities to connect with people, without the limitation of our geopolitical boundaries. I gave myself the opportunity to be vulnerable, make mistakes and try my hand at new materials. For instance, my grandmother passed on to me a small wooden bead-loom when I was eight. I took this opportunity to teach myself some of the techniques. There has always existed a discomfort when I am in this in-between space. Although this feeling isn't pleasant, I feel as if it is one of the most important parts of my process. It creates space for not-knowing and thus a renewed sense of seeing and exploration.

Read our interview with the artist here.
Pragun Agarwal: Typographer
Graphic design is possible because it is not a very physical labour of sorts. It is possible to do remotely, and I have comfortably adapted to this. 20-30 years back, it would've been impossible because at that time graphic design was a very analogue process, people were measuring things by scales and rulers, so it was a very analogue driven world. However now, since everything is digital, it has been quite a smooth transition. I feel like post the pandemic, the working environment might become optional, where this type of system becomes more flexible, in terms of graphic design.

Read more about the typographer here.