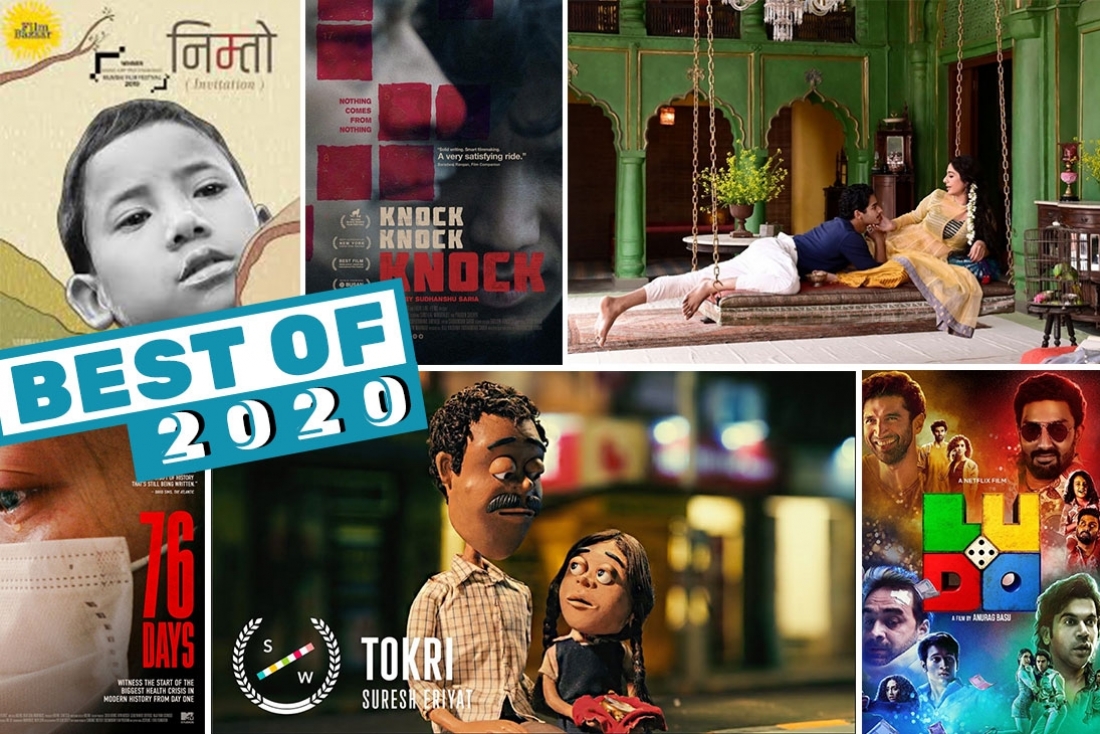 Best of Film and Miniseries 2020
Perhaps 2020 will be known as the year when, despite the imposed shutting down of theatres, people consumed films the most. Whether it was through OTTs or virtual film festivals, 2020 has been the year when film and web-series truly became a necessity to survive. Incredibly, most of the new content released this year was top-notch. From intriguing new indie films, to dazzling new feature films by seasoned filmmakers, this year has been a certain delight for cinephiles. In case you missed any of them, we present an edit of the best of film we have featured this year.
Nimtoh
Saurav Rai's debut feature film, Nimtoh or The Invitation, is set in Saurav's Darjeeling hometown, Bara Mangwa, and is steeped in his own experiences and memories. The film follows a ten year old boy, Tashi, living with his grandmother in a small room and the two of them helping their landlords by doing odd jobs on their farm. There's an enigmatic lyricism to the narrative that traces a short amount of time in this bucolic town, as the young boy finds himself excited about the wedding of his landlord's urbane son and what ensues from his desperation for an invitation. From the very first shot of the film in which Tashi hangs on a tree like a monkey, the film quite deeply immerses the viewer in its stark realism. There are myriad reasons behind why this authenticity is so impressively unembellished.

To read our complete review of the film, buy a copy of our new Platform Bookazine.
Dolly Kitty aur Unke Chamakte Sitare
By looking at the trajectory of films Alankrita Shrivastava has made, it becomes obvious that the filmmaker is more interested in exploring the interior world of women and not compartmentalising them. The women in her films are real and relatable. And that is what we love about them. They're fun, they have dreams and are not dying to only be good women of the world. Dolly and Kitty in her recent film are also women of today — battling patriarchy every day but never getting bogged down. Streaming on Netflix, Dolly Kitty Aur Woh Chamakte Sitare stars Konkona Sen Sharma and Bhumi Pednekar in pivotal roles.
To read our interview with the filmmaker about the film, click here.
A Suitable Boy
A Suitable Boy, was one of the most anticipated six-part television series of the year. An adaptation of the 1993 book written by Vikram Seth by auteur Mira Nair, A Suitable Boy is the first BBC television production with an all non-white cast (with a hundred and thirteen actors). It was also the first time that an Indian series will be released on an international platform. Andrew Davies, the master craftsman behind television dramas like War & Peace and Pride and Prejudice, has written the screenplay.
To read our interview with the filmmaker about the series, click here.
Ludo
Like all Anurag Basu films, Ludo, which was recently released on Netflix, has a plethora of dazzling characters, each one more absurd and twisted than the last. From a former convict fighting for the love of his daughter, a new bride-to-be bothered by an old sex-tape, and a salesman frustrated with his job who gets stuck as a witness in a murder, to a Mithun-obsessed man who does whacky jobs for the attention of his childhood sweetheart, a non-hindi speaking nurse who is bullied at her job, and tying all these stories together, a con-man named Sattu.
To read our interview with the filmmaker about the film, click here.
Tryst with Destiny
Prashant Nair's film Tryst With Destiny, is named after Nehru's speech on the eve of Independence, in which he urged that there be,'no resting for any one of us till we make all the people of India what destiny intended them to be.' It is an anthology of three original stories that collectively attempt to explore how far we've come vis-a-vis the goals outlined in that speech. In the filmmaker's words, 'Each chapter tells the story of an individual in contemporary India and his or her struggle to be 'what destiny intended them to be'. It's quite a crazy ride through very different worlds and has everything from arson, car crashes and gunfights in the jungle to biting satire, impossible love and a tiger in a box.'
To read our interview with the filmmaker about the film, click here.
A Rifle and a Bag
A Rifle and a Bag is a gripping story about Somi and her husband, who met and fell in love while fighting alongside the Naxalites — a communist guerrilla group that has been fighting since the 60s for the rights of the tribal communities of India. After a decade of armed struggle, the couple deserted the movement and surrendered to the police. Ever since, they have been striving to forge a new identity, educate their two children and reconcile their violent past with the fervent desire to integrate into the hostile Indian society.
To read more about the film, click here.
Tokri
The short animation film Tokri by the award-winning Studio Eeksaurus is deeply soul-stirring. Based on founder and animator Suresh Eriyat's real life experience with a small time vendor on the roadside in Mumbai, whom he shooed away in the moment, the film was motivated by his guilt and humanises those people who are sometimes considered nothing but a mere hindrance in our daily lives. Part-fiction and part-reality, the 15 minutes long film narrates the journey of a young daughter who starts selling baskets on the roadside, to save money to fix a broken watch dear to her father.
To read more about the film, click here.
76 Days
On January 23rd, 2020, China locked down Wuhan, a city of 11 million, to combat the emerging COVID-19 outbreak. Set deep inside the frontlines of the crisis in four hospitals, 76 DAYS is directed by the brilliant filmmaker, Hao Wu. It tells indelible human stories at the centre of this pandemic — from a woman begging in vain to bid a final farewell to her father, a grandpa with dementia searching for his way home, to a couple anxious to meet their newborn, and a nurse determined to return personal items to families of the deceased. These raw and intimate stories bear witness to the death and rebirth of a city under a 76-day lockdown, and to the human resilience that persists in times of profound tragedy.
To read more about the film, click here.
Knock Knock Knock
Knock Knock Knock directed by Sudhanshu Saria explores a gamut of ideas like 'adulting', loneliness and unusual friendships. Two men — an elderly Bengali man who designs crosswords and a Nepalese boy who decides to interrupt his day to befriend him — separated by generations, are united by their idiosyncrasies and conversation. The film was the only Indian title to be screened in the non-feature category at Busan International Film Festival, a huge honour for the team. It also won the best Screenplay Prize at the recently concluded New York Indian Film Festival. The film is now available for streaming on Mubi as well.
To read our interview with the filmmaker about the film, click here.
Nazarband
National Award-winning filmmaker Suman Mukhopadhyay's new film Captive or Nazarband, is a film that speaks to the viscera of its viewers. Inspired by a short story called Chuti Nakoch by noted Bengali writer Ashapurna Devi, the film is about Vasanti and Chandu. This unlikely pair of two jailbirds, embark on a harrowing and unpredictable odyssey across the intimidating terrain of Kolkata. It is a strange journey, imbued with heavy emotions like anxiety, distrust, dependence, hatred, care, greed, frustration and necessity. The theme of human survival, fascinatingly, leads the narrative.
To read our interview with the filmmaker about the film, click here.