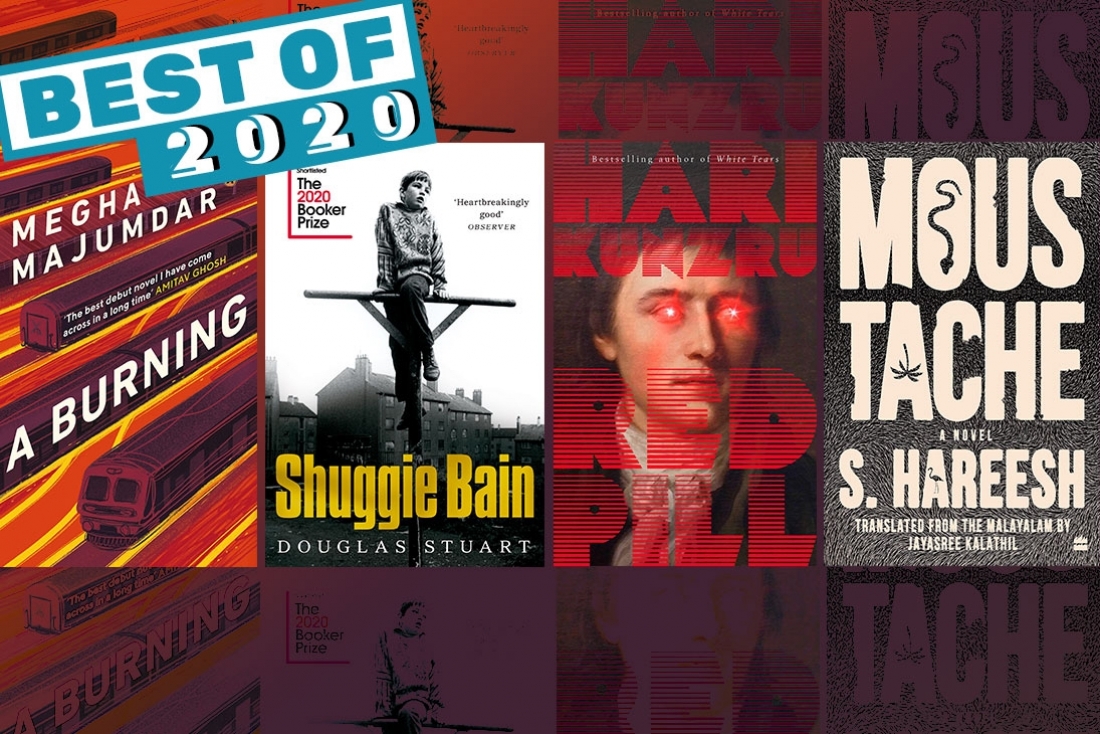 As we step into the last few days of 2020, we are propelled to look back at the year and take inspiration from all the incredible talent, with whom we've had the privilege to interact. In terms of literature, 2020 has been an exceptional year. Since the pandemic hit us, many have found reading to be a true source of solace. Some have used books as an escape, some as a distraction, and many as a pillar of comfort. With the amazing titles that have released this year, perhaps the joy of reading was only fuelled further. In case you missed any of them, we present the best of literature we have featured this year.
Shuggie Bain by Douglas Stuart
Winner of the Man Booker Prize 2020, Douglas Stuart's debut book, Shuggie Bain, is about a young boy named Shuggie, growing up in the Glasgow of 1980s, and his mother Agnes Bain. Intrinsic hues of emotional intensity and human tragedies like filial failures and drug addiction, imbue the book's narrative. With the microcosm of Shuggie's sexual growth and Agnes' dysfunctional life, amidst the macrocosm of Thatcher-wrecked Glasgow, Douglas creates a literary universe so deeply entrenched in the reality of an era gone-by, and imperfect relationships, that the pain emerges from the pages and seeps into the reader's psyche. Although the examination of Shuggie and Agnes' relationship is emotionally heavy and excruciating, there is a stark, non-judgemental clarity with which the author portrays the characters and their actions.
To read our complete interview with the author, buy a copy of the new Platform bookazine.
Red Pill by Hari Kunzru
At the heart of Red Pill, lies the experience of a British-Asian man trapped in a mid-life crisis, triggered by a sense of impending doom. It is the year 2016 and the world is witnessing a radical socio-political transformation. The US Presidential election is only a few months away. The status quo of normalcy is rudely being elbowed out by a new-fangled world order. Hari Kunzru's novel is immensely layered, packed with themes of State surveillance and privacy, racism and feverish paranoia, the far-right intellectual milieu online and fleetingly, about the refugee crisis. However, it also powerfully explores the emotional arc of what it means to be a man providing for and protecting his family, trying to live up to the inflated expectations of masculinity in the 21st century.
To read our complete interview with the author, buy a copy of the new Platform bookazine.
Loss by Siddharth Dhanvant Shanghvi
An award-winning writer, a passionate photographer, a curator with a keen eye, Siddharth Dhanvant Shanghvi's artistry explores various fragments of his being. Both his writing and photography is real and has feeling. Out with his deep, dark, honest and heartfelt memoir, Loss, his most personal work till date, Siddharth revisits the death of the three most important beings that have and continue to be a part of his life. Loss is life, as he knows it.
To read our complete interview with the author, buy a copy of our new Platform bookazine.
Shameless by Taslima Nasreen
Taslima Nasreen's life story is testament to why the written word is revolutionary. Even after her novel Lajja (Shame) led to her suffering a number of physical and other attacks — and eventual exile — for her critical scrutiny of Islam and her demand for women's equality, Taslima never stopped fighting for justice through her writing. With the English translation of her sequel to Lajja called Shameless, readers get to see her unabashed and subversive writing come to life once again. Her narrative, exploring the lives of the protagonists of Lajja, after they flee from Bangladesh to India, in hope of a better life, slowly gets subsumed by Taslima's feminism.
Read our complete interview with the author here.

The Heart Asks Pleasure First by Karuna Ezara Parikh
Set in a world of students but breathtaking in its expansiveness, The Heart Asks Pleasure First is a spellbinding first novel that speaks urgently to the frailties of our times. Karuna Ezara Parikh humanizes the big themes of friendship and family, migration and xenophobia, with the deftness of a poet and the magic of a born storyteller.

Read our complete interview with the author here.
The World That Belongs To Us: An Anthology of Queer Poetry from South Asia edited by Aditi Angiras and Akhil Katyal
It cannot be ignored that for far too long, even the space of literature and poetry has been dominated by heteronormative narratives. A book like The World That Belongs To Us: An Anthology of Queer Poetry from South Asia, is then an urgent book in its intention to shed necessary light on the voices that have been ignored for being queer. The book is quite simply an imaginative and beautiful testament to the diversity, politics, aesthetics and ethics of queer life in South Asia today.
Read our complete interview with the editors here.
What We Carry by Maya Shanbhag Lang
In a raw and riveting way, Maya Lang's memoir, What We Carry, explores the filial relationship of mothers and daughters, and everything in between. When Maya became a mother herself, she found her own mother slipping away — a figure she had idolised for a very long time. The poignant reality of Maya's mother's Alzheimer's engulfed her whole. With the affliction came many hard hitting truths, both about her mother's past — which she had lied about — and Maya's own relationship with her. In this poignant and moving book, Maya lays bare the the weight we shoulder as women, through a compelling examination of the lies and truths that are spoken and unspoken to us by our mothers. There is an immense universal appeal to her words. The book pushes you to recognise the follies of those who raise us and the necessity of inspecting these follies further, and hopefully in the process, accepting them fully.
Read our complete interview with the author here.
Winter in Sokcho by Elisa Shua Dusapin
It's winter in Sokcho, a tourist town on the border between South and North Korea. The cold slows everything down. Bodies are red and raw, the fish turn venomous, beyond the beach guns point out from the North's watchtowers. A young French-Korean woman works as a receptionist in a tired guesthouse. One evening, an unexpected guest arrives: a French cartoonist determined to find inspiration in this desolate landscape. The two form an uneasy relationship. Elisa Shua Dusapin's deeply visceral debut, Winter in Sokcho is a book, that will take you just a few hours to read, but its aftereffects will stay with you for a lifetime. An exquisitely-crafted novel, which had won the Prix Robert Walser, Winter in Sokcho is a novel about shared identities and divided selves, vision and blindness, intimacy and alienation.
Read our complete interview with the author here.
Moustache by S.Hareesh
Winner of the JCB Prize for Literature 2020, S. Hareesh's debut novel Moustache is as much about caste politics, oppression and gender parity as it is about the expansive landscape and changing ecology of south-west Kerala. The main protagonist of the book, Vavachan, is a lower cast individual who gets the opportunity to play a policeman with an immense moustache in a musical drama. The character appears in only two scenes and has no dialogue. However, Vavachan's performance, and his moustache, terrify the mostly upper-caste audience, reviving in them memories of characters of Dalit power, such as Ravanan. Originally published in Malayalam as Meesha and translated into English by Jayasree Kalathil, S. Hareesh's Moustache is a contemporary classic mixing magic, myth and metaphor into a tale of far-reaching resonance.
Read our complete interview with the author here.
A Burning by Megha Majumdar
Not short of an epic novel, A Burning revolves around three characters. Jivan, a Muslim girl from the slums, determined to move up in life and who is accused of executing a terrorist attack on a train because of a careless comment on Facebook. PT Sir, an opportunistic gym teacher who hitches his aspirations to a right-wing political party, and finds that his own ascent becomes linked to Jivan's fall. Lovely, an irresistible out- cast who has the alibi that can set Jivan free but costs her everything she holds dear. A simple social media post propels into motion a riveting tale, replete with complex themes of class, fate, corruption, justice, and what it feels like to face profound obstacles and yet nurture big dreams in a country spinning towards extremism.
Read our complete interview with the author here.
Djinn Patrol on the Purple Line by Deepa Anappara
Deepa Anappara's riveting debut novel, Djinn Patrol on the Purple Line, uses the point of view of her protagonist Jai, a young boy who ventures into the most dangerous corners of a sprawling Indian city to find his missing classmate with his two friends. What emerges out of this adventure is a tale filled with layered and poignant commentary on the socio-economic disparity in our society. Drawing on real incidents and a spate of disappearances in metropolitan India, Deepa's novel is grounded in the harrowing reality that the we as a society almost always ignore.
Read our complete interview with the author here.